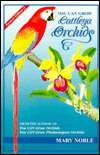 You can Grow Cattleya Orchids, Revised Second Edition
Mary Noble
Our Price:
$12.95
A seductive journey into the obsessive, outrageous, and mesmerizing world of orchids.
From the steaming jungles of Borneo to the hallowed hallways of Kew Gardens, from the clandestine orchid nurseries of Europe to the peat bogs of northern Minnesota, here are luscious, sexy flowers, orchid smugglers, fist-fighting botanists, moths with twelve-inch-long tongues, and government officials who raid orchid nurseries with attack dogs and automatic weapons. Strange tales of insect pollinator fidelity, the orchid ice cream makers of eastern Turkey, and man-crushing killer orchids weighing half a ton are blended with stories about a wide range of gentle people whose passion in life is the creation of scented, fragile flowers.
If your orchids are Cattleyas, this black and white book is highly recommended by Isabella. You will find excellent tips and simple yet effective techniques in growing these South American beauties.